Brother Luminaire Innov-is XP1 is the new star in the sewing world! Adorned with revolutionary StitchVision Technology, which, through an innovative projection of light, helps you to find perfection in every stitch. It's an enlightened sewing, embroidery and quilting experience, powered by technology that's light years ahead!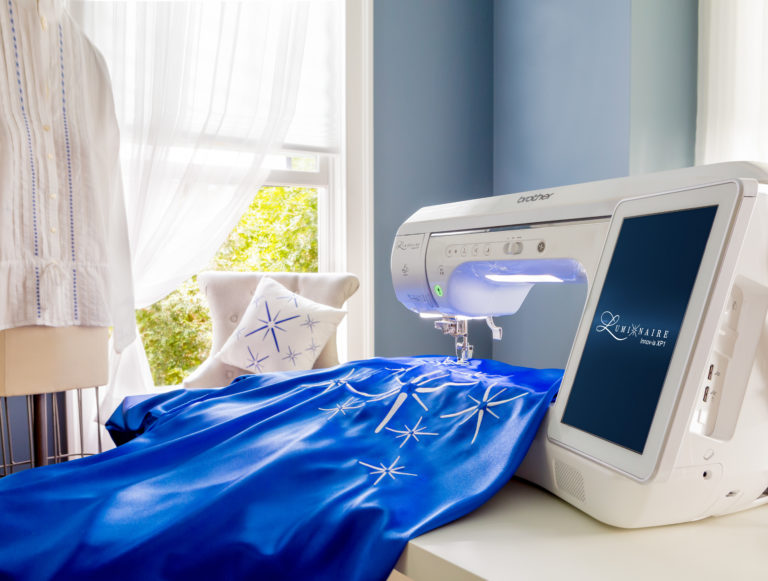 Brother Luminaire Innov-ís XP1 is equipped with exclusive STITCHVISION TECHNOLOGY!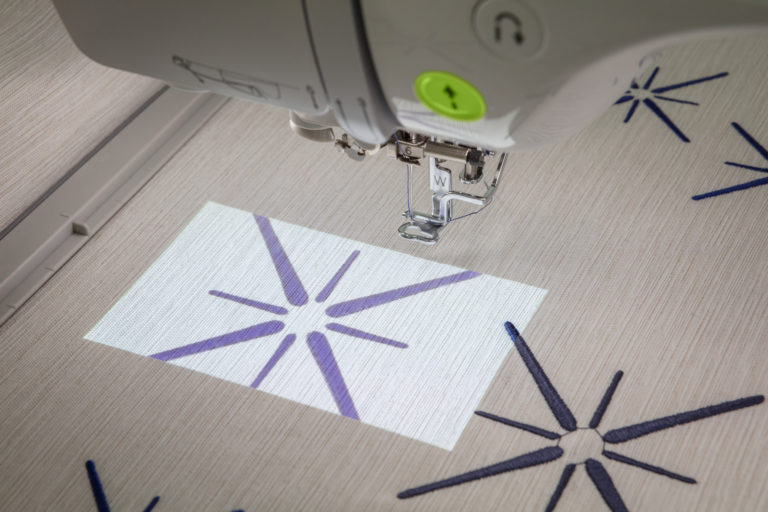 Use the StitchVision Technology for virtually perfect placement of your embroidery design. After choosing an embroidery design, select the StitchVision Technology icon on the LCD display to see your embroidery design projected on your hooped fabric, allowing you to get a realistic preview before you begin embroidering!
STITCH PRECISION WITH STITCHVISION TECHNOLOGY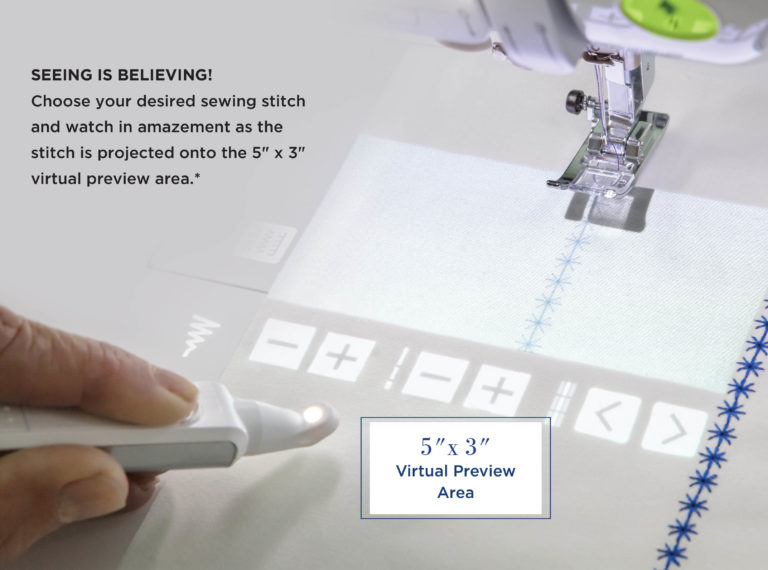 Introducing StitchVision Technology for sewing, a revolutionary system for virtually perfect stitch positioning and more precise previews via an intelligent projection of light. With the Brother Luminaire Innov-ís XP1, you can preview, audition, and edit designs and stitches directly on your fabric! Use the innovative Dual-Purpose Stylus that's included with your Brother Luminaire Innov-ís XP1 to make adjustments to your stitches directly on your fabric for even more accuracy than ever before! Adjust your stitch width, length, and left/right shift using the revolutionary stylus. Want to choose a different stitch? Easily switch your stitch design by pressing the left or right arrow keys using the stylus.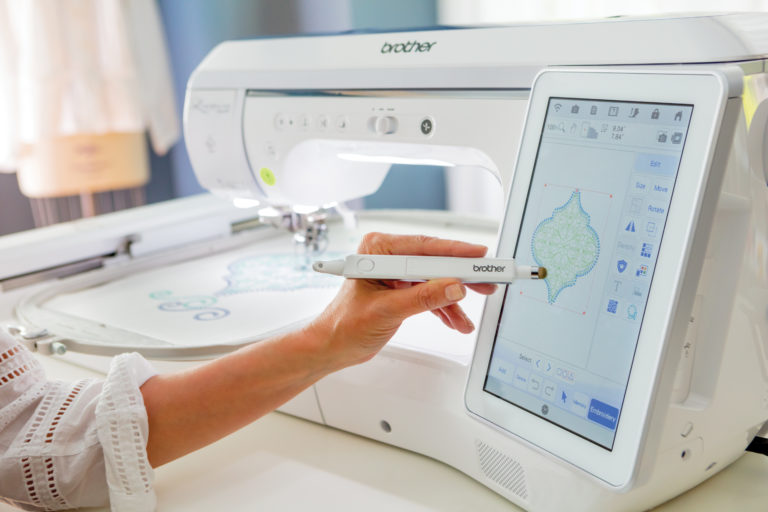 Dual uses for maximum efficiency – the soft tip works on the LCD display, allowing you to select, move, or enhance projects directly on the screen!
LARGE 10.1″ HD LCD TOUCH SCREEN DISPLAY WITH CAPACITIVE TECHNOLOGY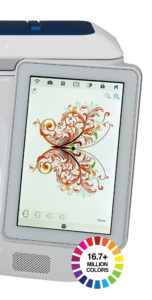 The simple and intuitive 10.1″ capacitive touch screen works like a tablet with familiar sliding, swiping, scrolling and pinch-to-zoom for viewing detailed steps, categories and designs. The user interface offers large, defined crystal-clear icons, and color navigation for easy viewing. BUILT-IN INSTRUCTIONAL MANUAL AND TUTORIAL VIDEOS (version 1.2) Tutorials make learning easy!
View over 30 tutorial videos, or stream your own creations using the industry standard MP4 format.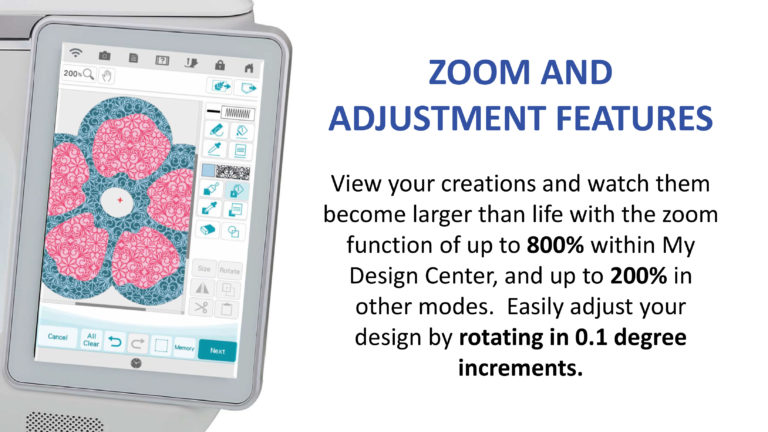 GUIDELINE MARKER LINE AND GUIDELINE MARKER GRID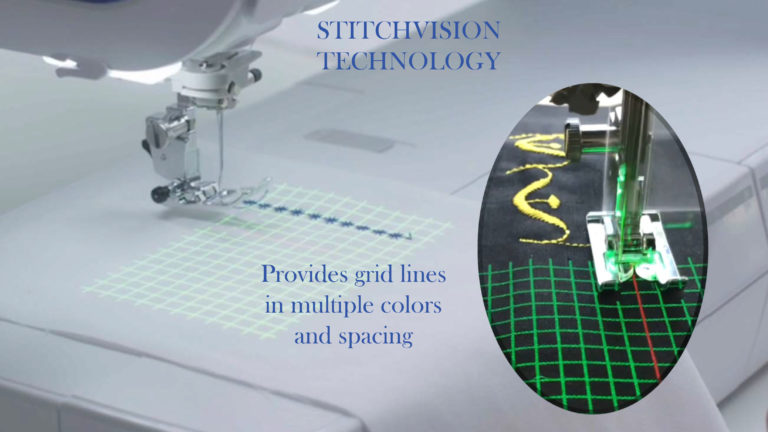 The 5″ x 3″ virtual preview area also displays a guideline marker in single, double, angled, and grid-lines. Use grid-lines for creating multiple rows of parallel stitching, pintucks, hems, curtain rod pockets, decorative stitches, cross hatch quilting, smocking and more!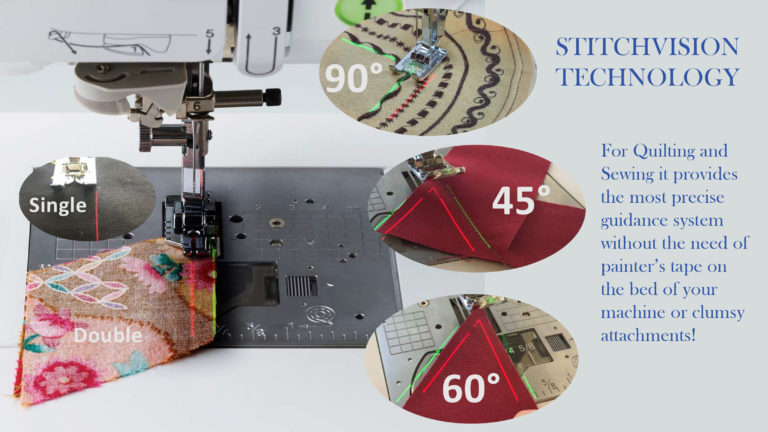 When creating mitered corners, sashing strips, or Y seams, diamond cross-hatching, or square corners, use the projector to preview your angle lines.
EASY-TO-VIEW EMBROIDERY POINTER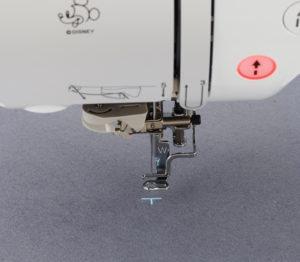 A built-in embroidery pointer is shown as a 'T' mark on your fabric. Three color choices ensure visibility, regardless of fabric color. The pointer can show the center of your embroidery design as well as the needle drop position on the fabric!
ENHANCED LED LIGHTING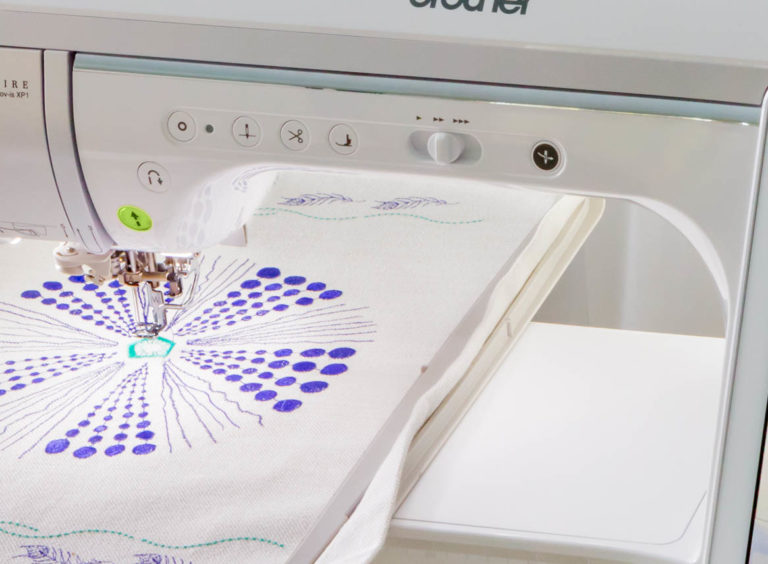 Now more brilliant than ever before! The powerful, high-color LED lighting keeps your workspace bright, with less glare and fewer shadows, making it easy on your eyes. Regulate the brightness between five settings, including an "off" mode to help find your ideal level.
EXPANSIVE WORKSPACE AND EMBROIDERY AREA – 65 SQUARE INCHES OF WORKSPACE – 13.1″ NEEDLE TO ARM!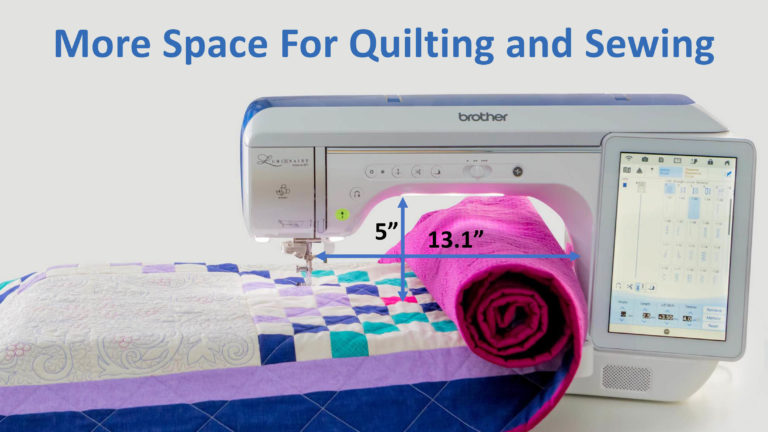 Achieve the unimaginable with 65 square inches of workspace. Projects of any size are easily managed. Our largest 13.1″ needle to arm is a dream for any quilter with the ability to accommodate a rolled king-sized quilt!The Brother Luminaire Innov-is XP1 has ENHANCED ACCUTRAC EMBROIDERY SYSTEM, engineered for superior stitch quality! Our advanced AccuTrac embroidery system has been enhanced to offer more embroidery arm support in both horizontal and vertical directions.
LARGE 10-5/8″ X 16″ FRAME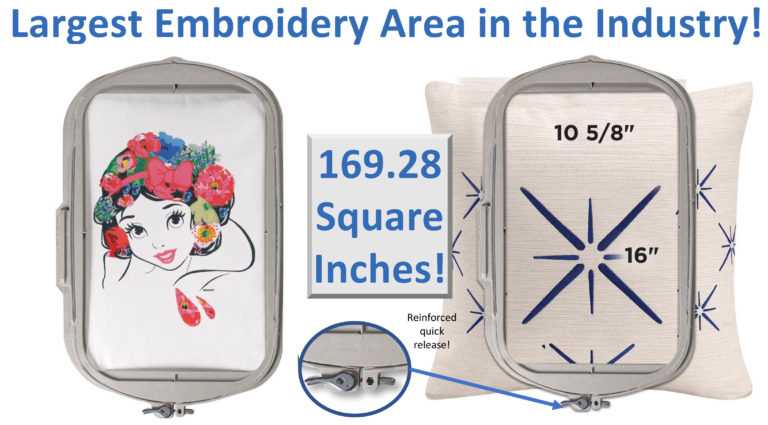 Make your projects larger than life with the Brother Luminaire Innov-is XP1's 10-5/8″ x 16″ frame, the largest that Brother currently offers. This extra large frame has efficient rubber plates on both sides of the inner frame to hold fabric securely, plus a Spring Lever Release makes it easy on your hands when hooping fabric!
1,100 Built-in Embroidery Designs, Including 192 Disney Designs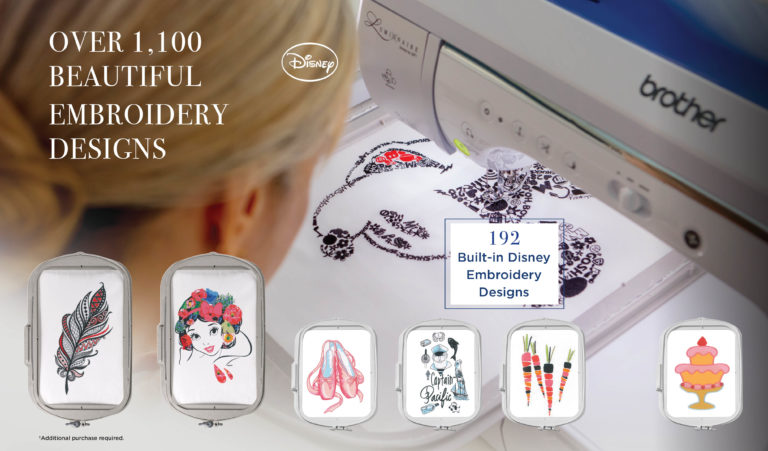 With the Brother Luminaire Innov-is XP1, you can let your imagination and creativity run wild! An extensive library of over 1,100 built-in embroidery designs includes Disney, Anna Aldmon, Zundt, Zentangle, and Pierre Joseph Redouté.Plus, with the Brother Luminaire Innov-is XP1, you get exclusive access to a constant parade of Disney and Disney•Pixar embroidery designs through the iBroidery.com Download Center! (purchase required)
Brother Luminaire Innov-is XP1 Stitches Can Be Customized in almost infinite combinations!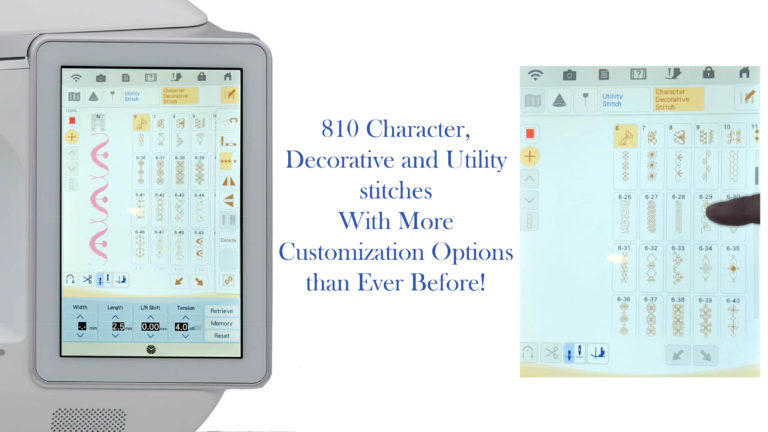 You can use 234 of the built-in stitches for embroidery!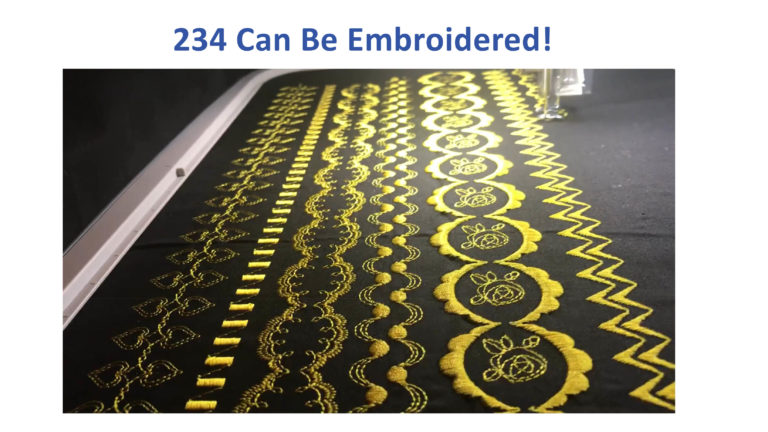 Advanced Lettering Capability!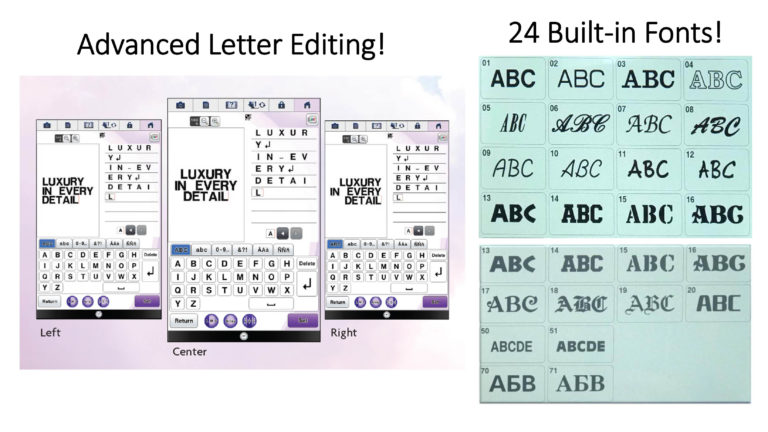 Large Monograms!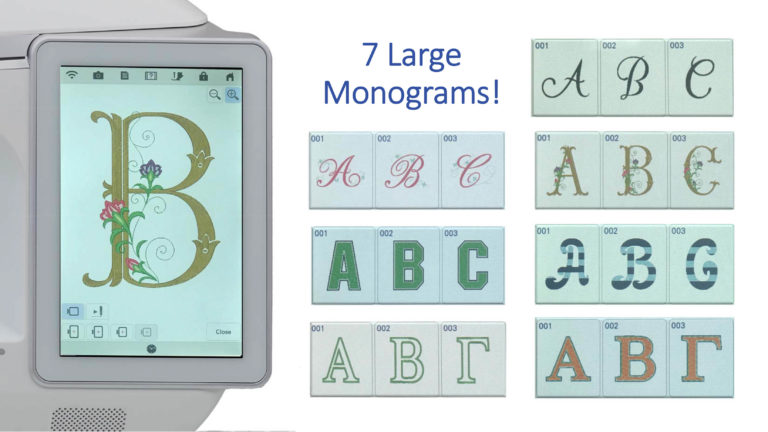 Brother Luminaire Innov-is XP1 Creates Designs Without The Need Of A Computer!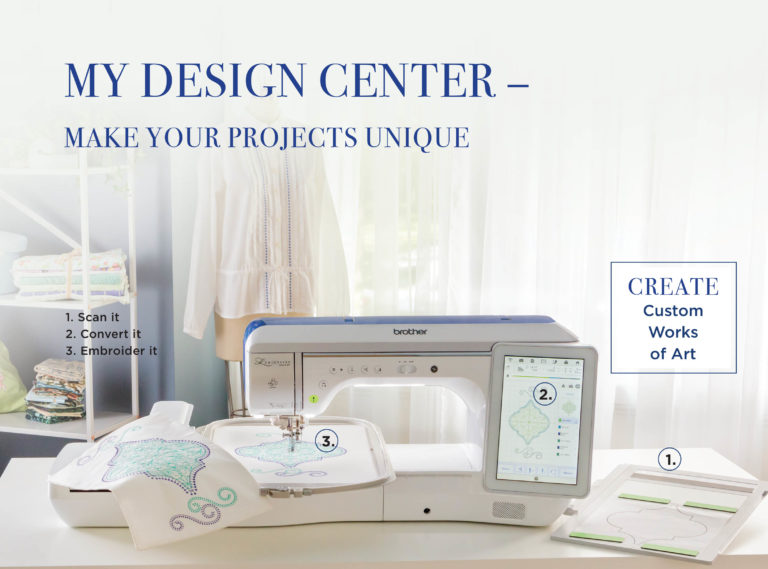 My Design Center integrates with our industry-first Innov-Eye Plus Technology to offer design capabilities at your fingertips, all without a PC! There are so many ways to create custom personal works of art – and a really fun way to create embroidery!
Draw or doodle directly on the LCD display and watch it spring to life in the large drawing area. Or, use the industry-first ScanImation Scanning Frame to scan drawings, line art, handwriting, or printed clip art and have it transformed into embroidery data. Or, import a JPEG using the USB port, and watch in amazement as the image is turned into stitch data using just the machine
.Accessories to Enhance Your Total Experience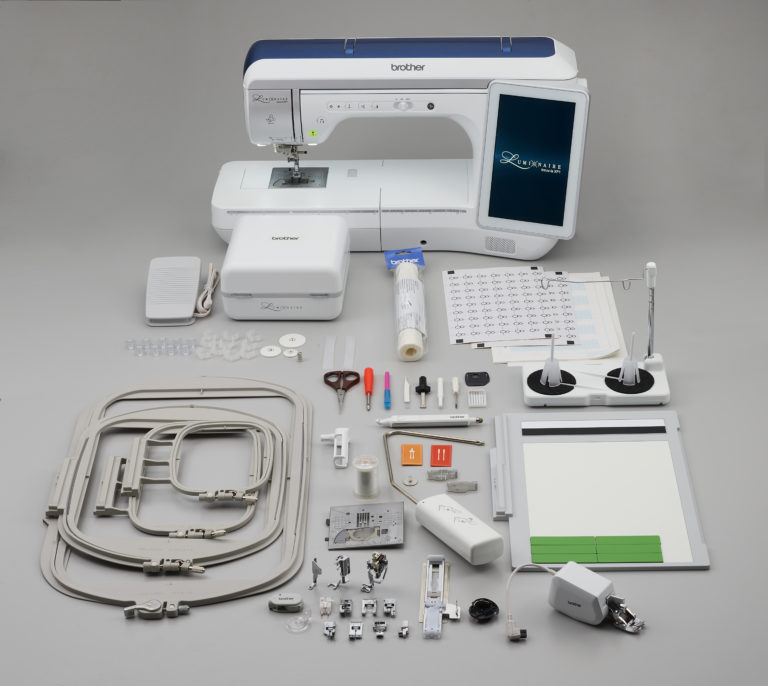 Each accessory has been carefully chosen to give you the best tools to complete your projects. Plus, we offer a range of optional accessories you can choose from to enhance your experience even more!
INCLUDED ACCESSORIES:
FOUR FRAMES, INCLUDING OUR LARGEST FRAME TO DATE
Embroider monograms and other small designs with the 4″ x 4″ frame. Use the 5″ x 7″ frame for clothing embellishment or choose the 9.5″ x 9.5″ hoop for quilts and jacket backs. Accommodate your largest designs on the 10-5/8″ x 16″ frame – our largest frame to date!
14 DIFFERENT SEWING & EMBROIDERY FEET
Choose from a wide array of feet, including a free-motion quilting "C" foot, a free-motion echo quilting "E" foot and a 1/4″ piecing foot for effortless quilting. Plus, the included industry-first camera detecting buttonhole foot can detect the button and automatically determine what size buttonhole to make.
STRAIGHT STITCH NEEDLE PLATE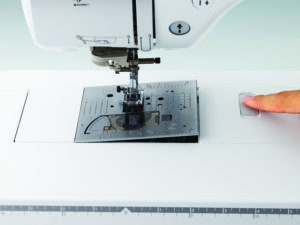 Easily and quickly switch your needle plate for sewing or quilting with a simple press of a lever – no screwdriver needed.
ACCESSORY CASE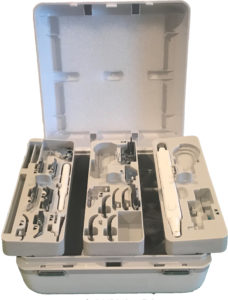 Designed to fit within the arm of the Luminaire, the accessory case will keep all your tools neatly organized and out of your way when not in use.
DUAL KING SPOOL THREAD STAND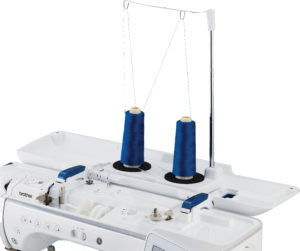 Open the top cover to easily attach the included magnetic Dual King Spool Thread Stand. This space-saving innovative spool thread stand helps ensure proper thread delivery and also helps prevent broken and distorted stitches and uneven tension.
ADJUSTABLE PRESSER FOOT KNEE LIFTER
Adjust the lever in three angles for your ideal sewing position. Adjust the presser foot in four different heights.
Basic Features
Accessory Storage: Yes
Additional Specialty Feet Available: Yes
Adjustable Presser Foot Pressure : Yes
Adjustable Screen Brightness: Yes
Automatic Thread Cutter: Yes
Branded Series: Disney
Built-in Languages: Yes
Built-In Memory: Yes
Display Type: LCD
Feed Dog Points: 7
Included Accessory Feet:
1/4 Inch Foot, Button Fitting Foot, Zipper Foot, Overcasting Foot, Blindstich Foot, Monogramming Foot, Zigzag Foot, Embroidery Foot, Free-Motion Quilting Foot
LCD Display Size (W" x H"): 5.3" x 8.5"
Memory Card Reader: Yes
Needle Position Key (Up/Down): Yes
Needle Threading System: Automatic
Presser Foot Leveling: Yes
Quick Set Bobbin: Yes
Realistic Preview: Yes
Screensaver: Yes
Specialty Feet Included: Yes
Start/Stop Button: Yes
Stitch Selector Type: Touch Panel
Thread Sensor: Bobbin Sensor, Upper Thread Sensor
Thread Sensor On/Off: Yes
UL/CSA Listed: Yes
Wide Table Included: No
Workspace Area: 5" x 13.1"
Dimensions
Unit Dimensions (W" x D" x H"): 12.7" x 27.2" x 13.8"
Unit Weight (lbs): 43.21
Carton Width: 24.606"
Carton Height: 28.74"
Carton Length: 35.236"
Carton Weight: 87.303 lbs
Embroidering
Adjustable Design Icon Size Setting: Yes
Adjustable Embroidery Speed Settings: Yes
Appliqué Creator Function: Yes
Automatic Feed Thread Cutting: Yes
Built-In Border Function: Yes
Built-In Designs: 1157
Built-in Embroidery Designs featuring Disney/Pixar Characters: 192
Built-in Embroidery Lettering Alphabet Fonts: 24
Color Shuffling Function: Yes
Computer Connectivity: Yes
Curved Text on Screen Editing: Yes
Drag and Drop Editing: Yes
Embroidery Position Marker: Yes
Frame Designs - Shapes: 10
Frame Designs - Stiches: 14
Included Embroidery Hoops: 4" x 4", 5" x 7", 9.5" x 9.5", 10.5" x 16"
InnovEye Technology: Yes
Maximum Embroidery Speed (spm): 1050
My Custom Design Feature: Yes
Onscreen Automatic Density Adjustment: Yes
On-Screen Editing: Yes
On-Screen Help: Yes
Pattern Rotating Increments: 0.1 Degree, 1 Degree, 10 Degrees, 90 Degrees
Print and Stitch Technology: Yes
Programmable Monochrome Embroidery: Yes
Resume Function: Yes
Sewing Decorative Stitches with Embroidery Arm Attached: Yes
Space Reduction among Embroidery Alphabets: Yes
Speed Adjustment: Yes
Thread Anchor: Yes
Thread Wiper: Yes
Trial Position/Layout Function: Yes
Quilting
Built-In Quilting Stitches: Yes
Built-in Sewing Lettering Fonts: 3
Drop-Feed: Automatic
Free Motion Quilting Foot: Yes
Included Quilting Feet: Yes
Sewing
Automatic Height Adjustment (AHA): Yes
Back to Beginning Key: Yes
Built-In Stitch Selections (Stitches): 821
Button Hole Styles: 15
Independent Bobbin Winding Motor: Yes
Knee Lifter: Yes
Maximum Sewing Speed (Stitches Per Minute): 1050
Media Type USB: Yes
My Custom Stitch Feature: Yes
Pivot Function: Yes
Reinforcement/reverse Stitches: Yes
Sideways Sewing: Yes
Speed Control: Yes
Stitch Length (mm): 5
Stitch Width (mm): 7
What's Included
Cable: Included
Carton Contents‡
4 Embroidery Frame Sets, Straight Stitch Needle Plate, Large Accessory Case, Dual King Spool Thread Stand, Adjustable Presser Foot Knee Lever, Grid Sheet Set, ScanImation Scanning Frame, Embroidery Needle Plate Cover, Dual Purpose Stylus
Please use the link below to go to Brother's Download Page for the XP1. Please note that all upgrades are cumulative so you only have to upgrade to the latest version.
Latest Version Release Date
This software update will provide the following changes.
--------------------------------------------------------------------------------------------
This software update will provide the following changes:
Version 2.04 (December 2019)
Improved camera recognition to detect the buttonhole foot "A+".
Improved machine's functionality for embroidery patterns connection using the built-in camera.
Improved machine's functionality of My Design Center.
Improved machine's functionality for quilt sashing.
(For Upgrade Kit 1 user only)
Improved machine's functionality for communicating with My Stich Monitor App.
(For Upgrade Kit 1 user only)
-----------------------------------------------------------------------------------------------------
Update History
Version 2.03 (November 2019)
The function to detect the embroidery positioning sticker on the embroidery frame has been improved.
The scanning function using the border frame has been improved.

Version 2.02 (September 2019)
Descriptions for the stitch patterns for quilting added with the Upgrade Kit 1 are available on the stitch pattern explanation function.
The built-in Operation Manual for Upgrade Kit 1 (PDF file) has been revised.
Memory function to save stitch settings of Utility Stitches has been improved.
Improved function selection programing to reduce reset frequency.

Version 2.00 (August 2019)
The following functions have been improved with the software version 2.00.Utility Stitches and Character/Decorative Stitches
Embroidery
My Design Center
Projector
Downloading Update Files
To learn new features, read the instructions for Version 2.0.
>>> Click here to get the instructions for the additional features of Version 2.0
Improved machine's functionality for the following features.Clock function
Setting for the Time/Date
Editing function to rotate an embroidery pattern

Version 1.24 (February 2019)
Improved machine's functionality for the following features.Calibration function for the built-in camera
Projector function to display the embroidery pattern onto the fabric
Scanning function using the border frame

Version 1.23 (November 2018)
Improved so that the next color moves to the top on the embroidery color order display when progressing through to the next color change during embroidery process.
Improved so that the pattern thumbnails in the machine's memory are displayed in order of the last pattern saved is first one displayed when retrieving a pattern.
The point-like indicator with the W foot can be used with a 'T' or a dot as its shape.
The type of pointer shape can be selected in the settings screen.
Improved machine's functionality for the following feature.Pattern connecting function using the built-in camera
Resume function
Dual purpose stylus function
Background image scanning function
Projector function
Memorizing the setting of embroidery tension
Initializing the needle position
Revised the built-in operation manual. (For all languages)

Version 1.22 (October 2018)
Improved the speed of background image scanning.
Scanning function is available with the border frame.
Improved machine's functionality for the following feature.Embroidery carriage drive control

Version 1.21 (September 2018)
Improved machine's functionality for the following features.Embroidering applique patterns
Auto split of quilt sashes function
Embroidery carriage Initial set-up
Revised the built-in operation manual. (English)
The built-in operation manual of the following languages is available.German, French, Dutch, Italian

Version 1.20 (August 2018)
Stitch or embroidery data can be recalled from USB CD / DVD drive connected to the machine.
The USB embroidery card reader will be available.
Functionality of viewing operation manual on the machine is improved.
Improved reaction of LCD screen.
The function to play the tutorial videos on the machine screen will be available.
Revised the built-in operation manual.