This is just the beginning of telling you what this event will be...much more to follow!! We just wanted to give everyone a spot to register.
We have always tried to host great events but this event is certainly going to be the greatest that we have ever hosted. With the Best Sewing Machines, the Best Educators and the Best Location (the Norwich Inn and Spa) so come join us for three days of incredible education, fun, and (it is at a spa) relaxation. Your registration ($199 for all three days) will include everything from machines (you will be using the absolute latest and greatest embroidery sewing machine that Brother will have just released), classes, food, projects, more food, and so much more. If you want to stay overnight to maximize your enjoyment the Spa will have plenty of rooms available at reduced rates.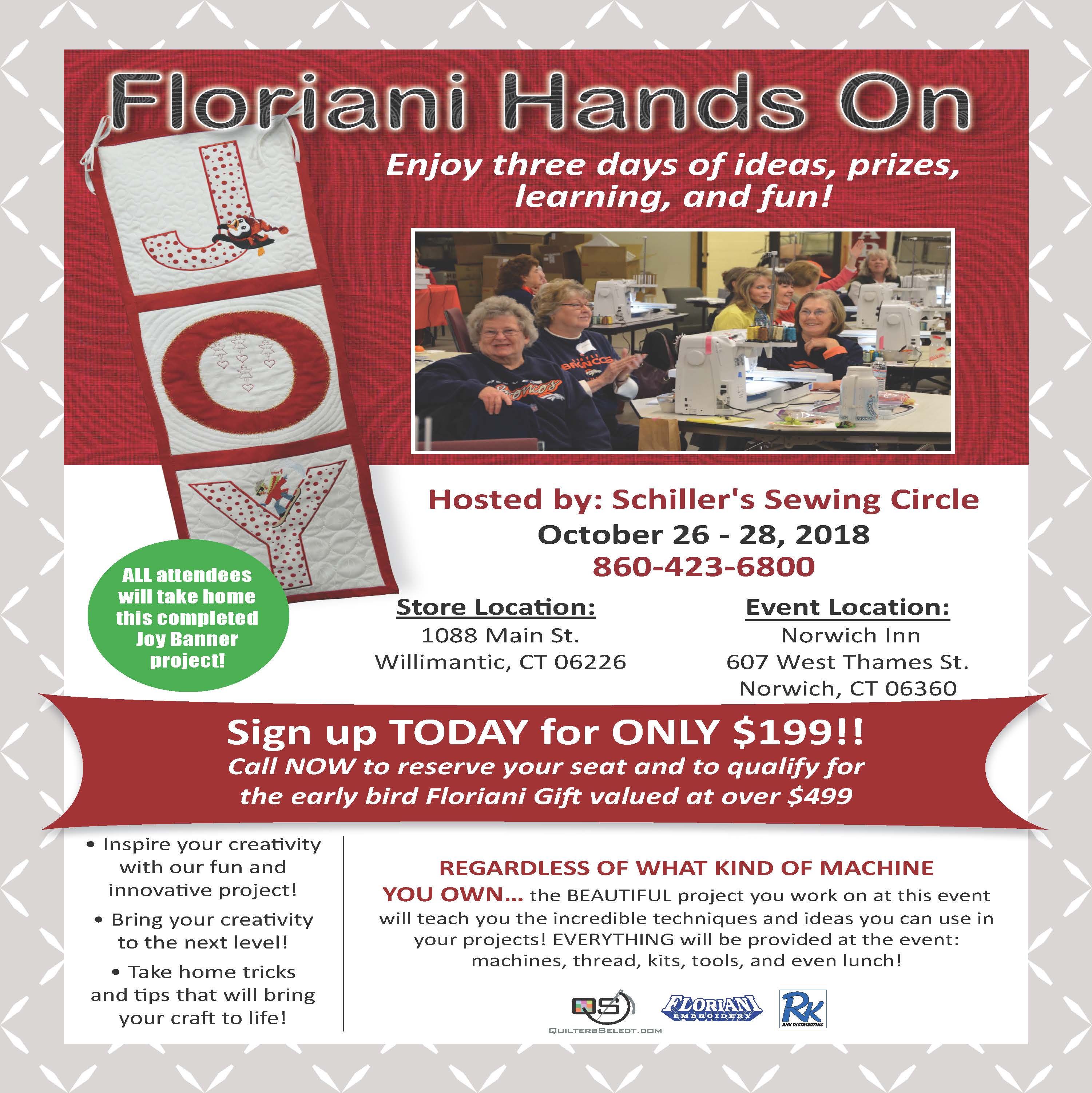 To make this event even better, we have reserved a block of rooms (ask for the Schiller's event). To make a reservation you should call the Inn at 860-425-3500 and ask for reservations.
Here are the room descriptions: https://www.thespaatnorwichinn.com/rooms/
SDDN: Standard Room with two double beds (great for sharing a room)
VSN: Studio Villa with King bed plus a sofa bed. It also has a kitchen and living room.
VDDN: Studio Villa with two double beds plus a sofa bed (great for sharing). It also has a kitchen and living room.
The rates, regardless of room type are $175 Thursday, $200 Friday, and $250 Saturday. Each reservation adds a $5.50 resort fee per person per room plus 15% tax.
Use this link to go to the Norwich Inn website.
Although staying at the Norwich Inn certainly will help make for a wonderful experience, there are a number of alternate hotels in the area. We recommend using any of the major search utilities (Expedia, Hotels.Com, etc.) and doing a search for Norwich Connecticut.
This is just the prototype, but we just got this from Floriani. Something like this is what you will likely be making as the project at our event. Quite exciting!