Some dealer cancelled their event and we were lucky enough to be able to take their spot. We just got a call from Floriani asking us if we would like to have Trevor Conquergood give a webinar for us on
Quilter's Select's crafting and quilting software. We many not have gotten as much notice as we would like but I am not someone to not take advantage of the situation.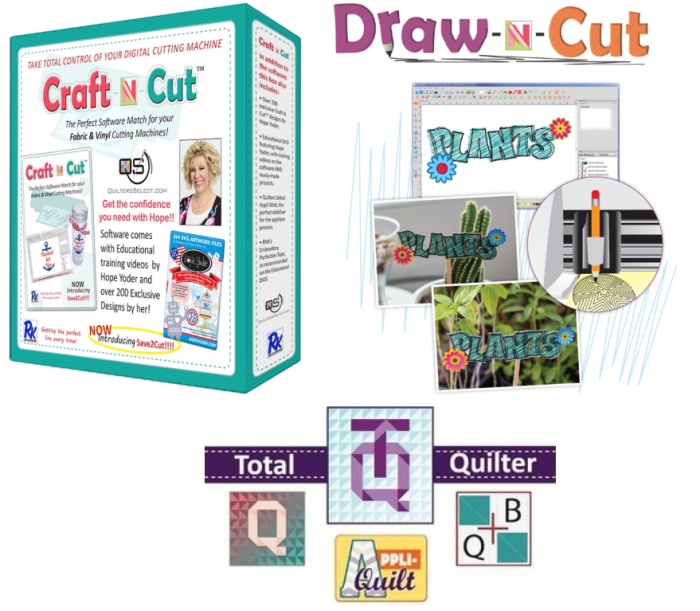 In this webinar you will learn all about the wonderful software that Quilter's Select (RNK) and Floriani makes for crafting and quilting. Although it is not the focus of this webinar their software is designed to work hand in hand with all of Brother's Scan N Cut machines (as well as other fabric and vinyl cutting machines).
Draw-N-Cut is an add-on module for Craft-N-Cut™, bringing new special tools that are designed to take advantage of pens, pencils, and markers with your cutting machine. You can create artwork designs from scratch to draw or convert existing artwork designs to designs that can be drawn out using special patterns.
Trevor will also be showing all types of tricks and tips with Floriani's Total Quilter's software and quilting in the hoop.Although there is no cost to attend this event, we are asking you to register for this event. We will both be sending additional information to everyone that registers as well as giving out prizes during the event (only to those of you that register).

Since Trevor is now the head of Floriani's software division, it is nearly impossible to get him for an event. This is something special and should not be missed.

And if you need an extra incentive, ALL of the favorite products from Floriani, Embellish and Quilter's Select and will be ON SALE!

This event will be hosted on the createwithrnk.com/schillers portal. The password schillers will be sent to everyone that registers for this event. So don't delay, click the button below and REGISTER.